App Name: QUICK for eBay & Craigslist
Developer: Quick Technologies
Cost: Free
Market: Google Play
Review:
Looking for a great deal? Then you have probably searched eBay and/or Craigslist to try and find what you wanted.  Both of these sites make it easy to find and sell whatever.  Yes each of these sites have an Android app but we recently found this app, QUICK for eBay & Craigslist, from Quick Technologies, that combines both sites/services  into one app.  Whatever saves some time is worth a look.
QUICK for eBay & Craigslist is a free app that allows you to list or search an item for each service.  Lets cover the search feature first.
When you first turn on the app, you will need to create an account. After that you can search by location, browse the inventory, or scan a bar code.  When you select location, the app who show you items located near you on Google maps. You can also search by keywords. The browse area will show you items based on categories such as books, electronics, home and garden, and so on.  The scan feature allows you to scan  an existing bar code and see if it is listed anywhere.   With each of these you can easily filter your results based on distance from you, price, and ending time.
From the screenshots below you can see are items are listed. When you find an item you are interested in, a new window will open and show you the details of that item. There you can purchase or make an offer. There is also the ability to share the item info with others.
Screenshots: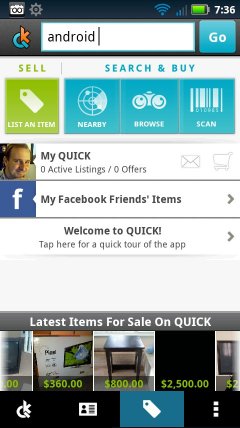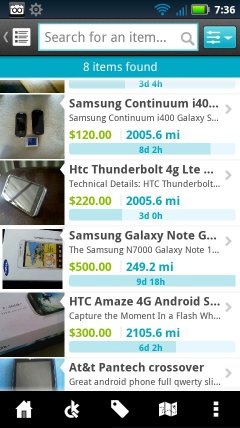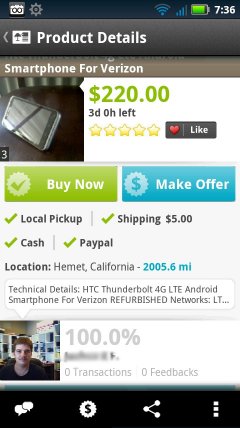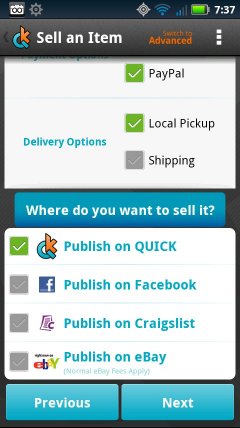 Selling an item is also very easy. You can provide details, photos, payment options you accept and where you want to list it.  It really is very simple.
After checking out the app, I headed over to their website and found that the service is much more than an app, so I contacted them to get some more information. Here is what I asked.
Q. Can you tell us how your service works?
A. Our service is very simple basically you take an item you would like to sell snap a picture of it, scan a bar code or search for a product model, fill out the marketplaces you want to post it on (Craigslist,eBay or FB) and then upload it to our server and we handle the rest. When your product get's sold on one marketplace such as eBay we take it down everywhere else so you don't end up selling the same item twice. Also as a side note we offer a unique feature for Facebook that allows you to set a "friends only" price for anyone you are friends with.
From a buyers perspective you can either look at items nearby or touch browse and than see items either locally or nationally. We allow you to communicate with sellers in real time using our in app messaging system. We also log all parts of the transaction in the in-app messaging system (offers, payments etc) to minimize confusion between both parties.  We also offer free image hosting for both eBay and Craigslist.
Q. Is the smartphone app required to use your service?
A. You will be able to buy things from our website after our next release without the smartphone app and we may in the future allow people to sell things from the website.
Q. What future plans do you have? (Other than getting an iPhone app)
A. We will be offering support for Google Shopping as well as website buying in our next release (version 1.1) which will be out in the next couple of weeks.
Overall QUICK for eBay & Craigslist looks to be a pretty cool app/service. As it relatively new there is not a ton of items but as they expand and more folks learn about it, that should change quickly. I like the idea that you can use your smartphone or website to search and list and filter your results based on criteria you provide.  The app is free,  there are NO ADs or fees so if you are a eBay or Craigslist user, I recommend you give QUICK for eBay & Craigslist at shot.