It is all about security. Most kids just want to go online and have fun- playing games, watching videos, email, etc. but as a parent you know that there is a lot of "bad" stuff out there and you want to help protect your kids from it.
Today I am taking an initial look at SecureTeen Parental Control app/service. This service is available for both Android and iOS devices. (see the links below). The iOS app does a bit more monitoring than the Android app. There is also a version you can use on your computer.
The overall process of the service is straight forward. First you will need to install the app on your child's device. You will of course need to create an account with SecureTeen so you can customize and monitor. Once your account is created you will setup a profile for your child or children. You will then need to enroll your device and then install/setup the SecureTeen VPN. This will also create an unlock key for that device.
The VPN (viritual private network) is the backbone of the system. I have discussed VPNs before so I will not repeat it here but by using a VPN, SecureTeen can monitor/manage online activity.
Once you have done the initial setup, I recommend you head over to the SecureTeen website, log in and setup permissions. On the website, you can see your devices, your child(ren) profile and the activity. You can go into each child's profile and setup what is block or not blocked. See the image below for what they offer.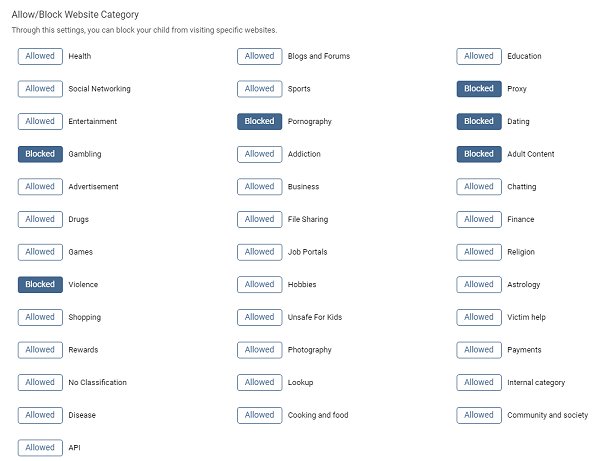 In addition to the website content, you can set up specific keywords, urls too.
The developer has quite a number of useful video tutorials you can use to help you along the way. Now this is a free service, but there is a premium version you can upgrade to if you feel it is necessary.
Overall this is not a bad idea for parents with small children. There are many similar services out there so it would be wise to review them and see which might be best for you. SecureTeen is pretty easy to setup and gives parents quite a few options in monitoring.
Download