A game I am currently reviewing and playing on Steam is Faeria. So far, this is an awesome card game. It is very much like Hearthstone but different. 🙂 There will be a full review of the game soon. Yes this game is coming to mobile later this year.
So what is the game? This is straight from the developer's website:
"Faeria combines the core values of Strategy Card Games together with a Living Board, giving you the ability to shape the board as you play to create mind-blowing strategies. Each game of Faeria is not only unique, beautiful and fast-paced but also highly competitive with upcoming features such as an observer mode and integrated tournaments."
The reason for this post, is that on June 16-19 they are having a FREE FAERIA WEEKEND. You can download the game for free and play all weekend.  When the weekend is over, there will be two discount bundles for you to get the game.
Early Access Bundle: 50% discount applied
Early Access only: 30% discount applied
"After the Free Weekend is over, players will need to buy one of the Early Access options in order to resume playing the game; however all progress made and cards earned will remain intact, regardless of their choice, until they either enter Early Access, or log into their account after we(the developer) go Free-to-Play later this year."
I definitely can recommend this game. If you enjoy Hearthstone and other deck building type games, then you need to give Faeria a try. Hopefully I can find the time from playing to finalize my review.  🙂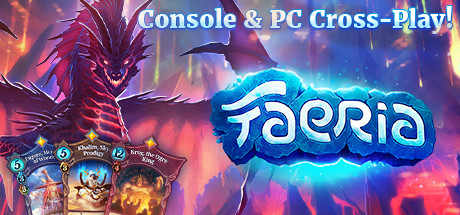 Developer:
Abrakam Entertainment SA