Keeping your Android phone lean and fast is very important. Today's review is for Power Clean from Lionmobi. I have tried a number of cleaner but I really like the options and settings that this app provides Android users.
To get started, simply download and you are ready to go. Most users will probably just use the default settings but Power Clean, really lets you customize what and how you clean up your Android device.
When you first start up the app, you will get  a quick summary of your used/available storage and ram, plus the CPU temperature. To get more details on these, just tap on that item and a detailed screen will open.  When looking at the storage you will see what files, photos, apks, programs take up the most space. When looking at the ram, you will see which apps are running and how much memory they use.
The CPU temperature check is really neat. In this section of the app, you get detailed information on your processor, camera, storage benchmarks, and more. This section also contains information on your battery. There is more information here that I have never seen or investigated before on my phone.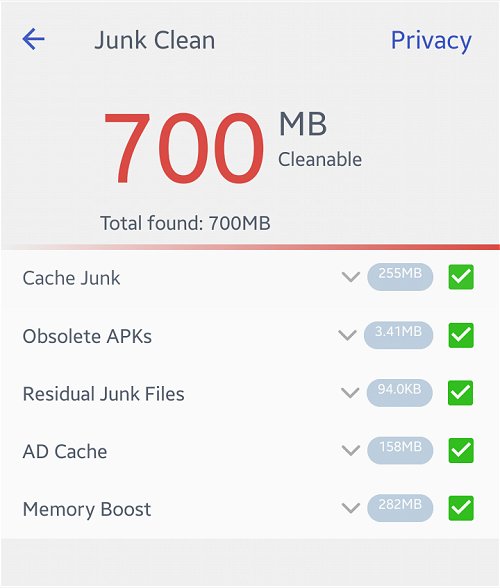 After reviewing those sections, you next section you need to check out is Junk Clean. I think this is one of the best features of the app. Here Power Clean will go through and provide information on cache junk (standard cache from your programs), obsolete apk files, residual junk files, AD cache, and memory boost.  Do you play a lot of free games with banner ads in them? Well those ads leave files on your phone and the AD cache aspect will clean those out for you! When I first ran it on my phone, I had 158 MB of ad cache. Holy Cow!
By now you should have  pretty good idea of what all this app can do. But wait, there is more. 🙂
In the top left hand corner of the app, you can access the main menu. In this menu, you can access each of the cleaning areas but you can also get to the Setting Section.  In the settings, you can specify the language, theme, temperature units, notifications,  etc. You can tell the app which items to ignore when cleaning too. The app has a notification bar with a flashlight if that will help you!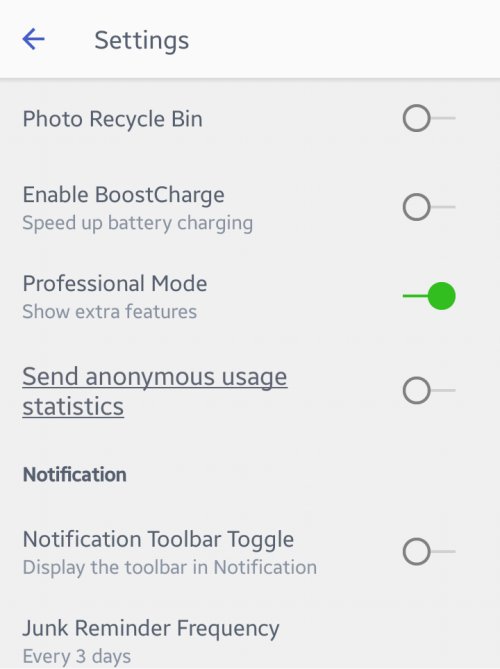 It is these customization options in the app that I think really make it stand out from the rest. As I said, most will just use the standard settings but you can really get detailed and make Power Clean your own. After testing this app out for a while, I have no problem recommending this app.
So if you are looking to keep you Android phone clean and lean, try Power Clean from Lionmobi.
Download from Google Play