App Name: Nexionode
Developer: Big Round Eyes
Cost: Free / $4.99 USD  Android, iOS
Review:
From the developer:  "Nexionode is a sci-fi logic puzzle game set deep in outerspace. While the human crew is under cryostasis, the Nexio Colony Spaceship is suffering massive failures. You are TL-9507, a unique RepairDrone: your AI has been secretly enhanced. Woken up by a security alert, only you can repair the ship's circuits. Use your logic skills to save the Colony from imminent destruction."
Ok from me: Nexionode is a lot of fun. This is a neat puzzle game that will entertain. I played the game on my iPad mini and it looked great. The game comes with about 150 levels and plays in portrait mode. Each level will present a slightly different challenge. You will need to play the levels in order, as you moving through the ship to restore its power.
So what do you need to do? There are a series of orbs with orange lights on them. You need to turn the lights from orange to blue by connecting them to the other spheres. A few rules:
need to connect them in one continuous line
you cannot cross lines
the number of lights on each sphere represent how many times you can connect that sphere
As you finish a section, you earn an energy which will be used to unlock future sections such as the plasma conduit, solar array, cargo bay, power reactor, central computer, the command bridge and more.
The has a very nice tutorial and you can download a demo of the game before purchasing it.  This is a very well design and executed game that I can easily recommend.
I reached out to the developers for some q&a to learn about more about them and the game.
Thanks for taking some time with us today.
Q. Tell us a little about your company
Big Round Eyes is a tiny indie team of two game developers in Canada. Four, if you include the cats. We have been making hired Flash games for a while when in 2011, we decided to give it a shot on our own and created our first game Pop'n'Spawn, a free online board game released in 2012. We went back to hired jobs till mid-2013, when we seriously considered creating our first "commercial" video game.
Q. Other than Nexionode, any other mobile games out there? Any games in development you can tell us about?
Nexionode is our first mobile game and for the moment, we're focusing on its release. It's already out on Android and iOS but the Desktop version is still to come later in July. It's also a lot of work to get the word out so it takes most of our time. We do have projects for the future but to be honest, it will depend on the sales of Nexionode. It is really hard to make a living out of indie games, however we are really hoping we will be able to bring more of our ideas to life in the future.
Q. So how did you come up with the idea for the game?
As it's often the case, it's multiple things coming together. Some time last year, Dylan was toying with a puzzle game idea that involved patterns and lines. Problem: it couldn't have been less fun. At the same time, I went back in France and borrowed my sister's Android phone. She uses the "pattern" lock, which I didn't know at that time, and I found the concept so funny that I would lock and unlock the phone in loop (yeah, I know…). When I told Dylan about it, he thought about it for a while and later included the "point" idea (which became drones) in his previous game concept. It went a long way from there, but the basic gameplay was born.
Q. I see the game is one multiple platforms, as a developer, do you find creating games for one platform (iOS, Android, etc) any easier than the others?
For Nexionode, we chose a multi-platform technology (Adobe AIR) that we knew well so, technically, developing the game for Android, iOS and Desktop at the same time was very smooth. The biggest challenges were the various screen sizes and the memory/CPU limitations of older devices. I wouldn't say one platform is easier to work on than another, but thinking "multi-platform" is a challenge in itself.
Q. How does one determine the price point of a mobile game?
With a mix of coffee and aspirin. Seriously, choosing a price is hard. On the one hand, we know mobile players can access games for $0.99 (if not for free) and on the other hand, we need our game to generate enough revenue so we can survive as Indie developers. It's really, really tough.  In the end we settled for $4.99 by comparing our game with other ones in the market and taking into account our financial goal to keep developing games.
Q. As a developer,what are your thoughts about the current issue of freenium?
Freemium and, in general, in-app purchases were what we were advised to do and what we didn't want to do. Most freemium games rely on addiction to make you buy tickets/coins/gold/energy that you can then spend in-game to perform better or faster. Or sometimes it's about customization: pay $1 and get a new dress for your avatar. It's a lucrative idea: players don't pay upfront, but if they're caught in the game, they can end up spending a lot of money on in-app purchases.
For us, we wanted to deliver a game that is self-contained. We focused on making a good game, fun and challenging, within our abilities and skills. If you buy Nexionode, you won't be asked for more money in-game and the game is the same for everyone, for the same price.
Q. Where do you see the future of mobile gaming?
I think there's still a lot of potential for more social interactions in mobile games. Besides sharing your top score or playing multi-player against another person, can games make people interact with each other more spontaneously and casually? Just a very abstract thought: can you have a game where many people make small actions, like Tweets, that take a few seconds each day but cumulatively results in changing the outcome of the game? I think something like that we would certainly see with games on mobile devices before other platforms.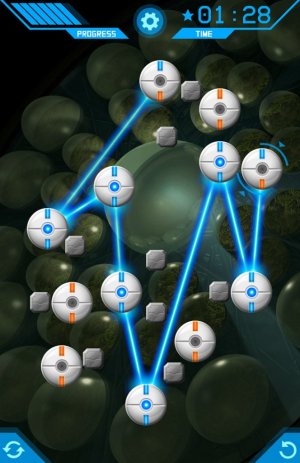 Thanks again for the time and a great game, we wish you good luck and let us know when you next game comes out.