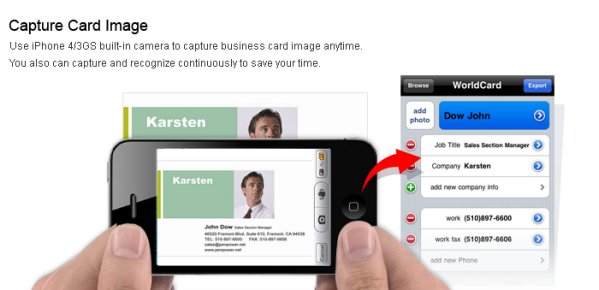 For those that have a lot of business cards, WorldCard Mobile should be an app to consider. This is an award winning business card scanning application for iPhone, uses OCR (Optical Character Recognition) technology to instantly transfer information from business cards to your contact list. When you first turn on the app, you it will ask you to connect with your contacts. Within the app itself, there is a very simple menu system:
Card Holder: This shows all of the cards/contact information
Camera: Where you go to scan the business card
Photos: Where you can create a contact from albums
Signature: Where you can copy email signatures
QR Code: A QR code scanner
Within each of these areas, there are a number of options and settings you can adjust. I found the app very easy to use. There is a nice help section within the app if you need more specifics on things. If you do a lot business meetings and swap business cards, I see this being a real time and space saver.  Check out the demo video below for more information on the app.