App Name: Parallel Zombies
Cost: Free
Developer: PerBlue
Market: Google Play
Review:
The time has come – the zombie apocalypse. What happened? A few months ago the entire world fell to its knees in the face of the most infectious plague the world has ever seen. At first it appeared as though people were simply getting sick, but the infection was more sinister than that. The dead began to rise from their graves, and very few survived the initial wave.
Your job? Slay zombies, Save lives, Survive!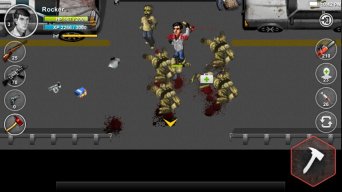 Parallel Zombies from PerBlue was launched today;  it's their 3rd location based MMORPG game and this one is excusive to Android. If you have played Parallel Kingdom or Parallel Mafia,you will some idea on the general concept of the game. Parallel Zombies uses your GPS location and then places the game on top of Google maps so you are literally playing in your street and town.
From the developer: Using Google Maps' satellite view, players interact virtually with real locales all around them. Places like airports, hospitals, and graveyards spawn in their real-life location. Players travel the planet as they complete dangerous missions at some of the world's most famous landmarks, including The White House, Area 51, and the Pyramids of Giza.
You begin the game by customizing your own character and picking a class. You can be a soldier, hunter or doctor. Each has its own unique abilities and skills. So there are 3 classes and 3 tracks of skills and 9 skills within each track. If you want later on, you can reset your class and skills and try something new. After you create the character, the game will take you through a small tutorial to familarize you with the game's goals, controls, etc
Unlike the other parallel games, in Parallel Zombies, the main emphasis is going to different locations and helping NPCs with various missions. As you work through and complete missions you will find and get numerous items, which you could use, trade, or sell. Establishing relationships with the NPCS will be the primary form of travel.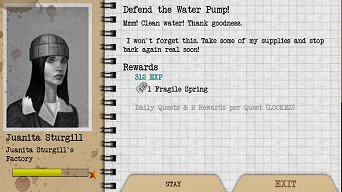 Also in the game you can access what is called the Groups tab. Here you will be matched with allies to complete quests and of course find new friends. In the game you can also craft items. With this you can improve your ax or shotgun to be more deadly when dealing with the 15 different types of zombies you will encounter.
Ok, so how is the game play? I was able to play the alpha version of the game and it is fun. I am not a big zombie game player but running around my virtual town and chopping up zombies with an axe is pretty cool!
The graphic and sound are excellent and game play is pretty smooth. I really like how this game is mission based so you can play on your own but at the same time, easily hook up with others for some team play. You can pause the game if needed but most missions did not take a long time and I found a ton of stuff along the way. My storage kept getting filled up quickly. Crafting was  a big help.
The game is very well done. Overall there is a ton to the game: single and group play, customized characters and classes, crafting, trading/selling, travel…it will definitely keep you entertained. I am excited about restarting my character, leveling him up, crafting better weapons, killing zombies, and seeing where the game will take me.
If you like killing zombies, enjoy MMORPG games and have some time on your hand, head over the Google Play market and download the game. Did I say it is free and only on Android?! Your town will thank you for saving them!
Feel free to contact me in game (Sulliman) if you ever want to do some group play.
A few side notes about Parallel Zombies vs. the other Parallel games:
Controls: You will use a virtual joystick to move about and attack your enemy.
Subscription: There will be no subscription model in Parallel Zombies – once you make a purchase in-game, you will forever be a 'VIP'. VIPs enjoy 30% more experience points after completing missions.
Food: As with Parallel Mafia's credits, you need Food to level up and buy specialty items.
Trading: Exists in Parallel Zombies, but is not as large of a component as in the other games. Players in Parallel Zombies can trade swag, but not dropped resources.
Travel: Eventually players will be able to build safe houses that allow them to travel back to places they've been previously.