App Name: PTSoccer Euro2012
Market: Google Play
Developers: Catalyst People Limited
Review:
In just about a week the 2012 UEFA European Football Championship, or Euro 2012 will begin with the finals be hosted by Poland and the Ukraine. If you would like some more information about the tournament, you can check out the Wikipedia page or the official website . Looks to be an exciting tournament!
If you are looking for a great way to keep up with all the action, then you might want to check out PowerTable Soccer Euro2012Android app from Catalyst People Limited.
Overall the app works fine on my Android phone. The user interface is clean and easy to read. Navigating within the app is fine with all information being only 1-2 clicks away. This app provides a great deal of details and information on the tournament. Since it is free, there really isn't any reason not to give it a try. The app has the information broken into five sections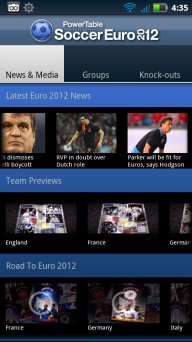 1. Teams -a list of the 16 teams in the tournament. With each team you can then click and get more information on team members, matches, and news.
2. General tournamanement news, videos, groupings, and knockouts.
3. Matches– a very easy to access and follow tab with all of the matches, dates and times and predictions.
4. PowerTable– the 2012 PowerTable rankings for each team and Tiers. Who is going win? Which team has the best power ranking? A neat feature here is that you can now create your own PowerTable. With the app, you can easily share your PowerTables with others on Facebook and Twitter.
5.  My Wall – In this section you can add different teams to your wall which will allow you to quick find the info you want to know on them.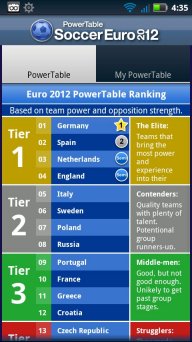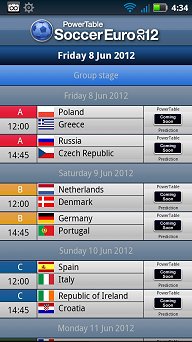 Soccer is not as popular here in the US as it is in Europe, but its growing. I really began to follow the sport more during the last World Cup and now older sons play on their high scool soccer team. As I was reviewing this app, I really got excited about the Euro2012 tournament and plan to watch as much as I can. This PTSoccer Euro2012 Android app will be an important assistant to help me keep track of players and teams.
The PowerTable predicts Germany to win, what do you think? Download PowerTable and set up our own predicts and see how you do.