Home security and video monitoring are very important topics to most home owners. There are many different products and services on the market to choose from. Today I am looking at the Mini Plus Wi-Fi Camera from EZVIZ. I need to thank the manufacturer for providing a unit to test for this post.
If you ever wanted to set up your own home monitoring system or setup a video chat system, the Mini Plus Wi-Fi Camera can do the trick.
As stated in the video, the unit is pretty easy to setup, as long as you follow the instructions. 🙂 The developer's website does a very good job providing you with the basic information, so I am not going to repeat it.  Here are some key points I wanted to highlight:
Your can control the camera via a mobile app but they both must be on the same Wi-Fi network
The unit is small but is not battery operated, so you need to have it plugged in. (You do get a pretty long cord included)
You can save your video/images via the cloud or microSD card (not included)
You can control multiple EZVIZ devices from one app
The camera video and screen resolution are excellent and the lighting worked well. Since there are not a lot of "moving" parts with the camera, it is hard to "mess" up. Once you have charged, positioned, and put the camera on your Wi-Fi network, everything you will need to do can be done within the app.
Once the app is installed, you will need to setup an account. This will be used of course to connect to the cloud and for settings. It should also be noted that to use the cloud there is an additional charge involved. In addition to setting up the cloud, within the app you can:
Setup your notifications, sounds, device parameters and configure the Wi-Fi
Access online help
Work with IFTTT
For those not familiar with IFTTT, this is an applet that allows you connect 2 apps together to perform a function. So within this app, you can turn on Sleep mode or have the WeMo on when motion is detected or you can setup your own. A pretty neat feature to have.
When you access a particular camera in the app you will be able to do a number of things such as:
Turn on/off the mic
Take a still  shot
Record a video
Connect to CloudPlay
View previous videos
Zoom in in a video
Create a panel view
Flip the image
The app interface is very intuitive so you should not have any problems figuring out what to do. The test images and videos I did were clear and well defined. The camera does have a wide angle so you can see quite a bit within the field of view.
I would think the primary use of this camera is for security. You can set when and how you record and you can save quite a few videos within the cloud. You could use the camera for video chatting since there is a mic and you can also save videos and watch them later. There are some easier and less expensive options so I would think that this is not as popular.
So what are my final thoughts?
EZVIZ Mini Plus Wi-Fi Camera is a nice camera and has a very well done app to support it and allow you to have your own video security system. The price seems reasonable compared to other cameras on the market. There are quite a number of options you can customize within the app to really create the system you want. I had no problems setting up and using the EZVIZ camera. So if you are on the market for a security video system you can control on your phone, then the products from EZVIZ are a good choice.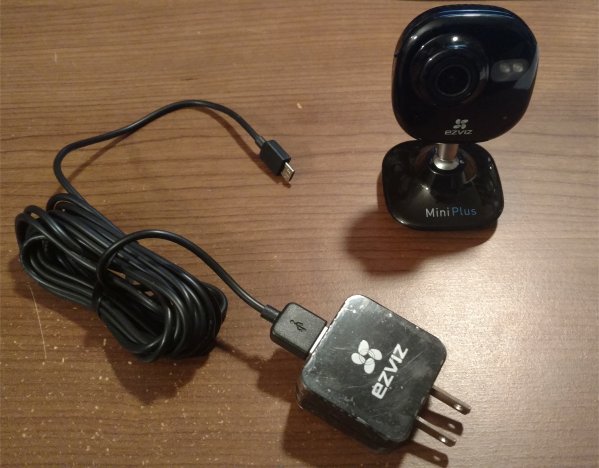 Download App (Android):