Today we are speaking with Stephen Buonocore from Stronghold Games. Stronghold Games is the publisher of the deck building game Core Worlds and some other great board games. Yesterday we posted about their current Kickstarter project with BrokenMyth Studios to bring Core Worlds to the digital realm. If you have not done so, please go support them.
In today's interview, I plan to cover a number of different topics with the goal of getting to know Stronghold Games better and the world of board games, and of course digital board games.
Q. Thanks for the time Stephen, can you tell us a little about your company and the games you make.

A. "It's simple. We produce only the highest-quality board games in the industry. No corners will ever be cut in the production of our games. No game will ever be produced that we do not believe is great in its mechanics, category, or theme. And while Stronghold Games is a business, games are our love and our life. We are game publishers, game developers, game designers, but first and foremost, we are GAMERS… just like you. Stronghold Games… The Fortress of Great Games!"
Ok, well, the above comes directly from our website on the About Us page. We are, however, as we say gamers, so we think of gamers first when we publish our games.  We have  have "something for everyone" in our catalog 
Light/family/party games: Survive: Escape From Atlantis! (and its 3 mini-expansions) Going,Going,GONE!, Lost Temple, Little Devils, Crazy Creatures of Dr. Gloom, Article 27
Euro/strategy games: CO2, Kanban, Panamax, Medina, Voluspa (and its expansion), Crude, Outpost, Time 'N' Space, Code 777
Cooperative games: Space Cadets (and its expansion), Space Cadets Dice Duel (and its expansion), Space Cadets: Away Missions, Space Sheep!
2-player games: Revolver (and its 5 expansions), Revolver 2, Confusion: Espionage and Deception in the Cold War, Vampire Empire
Card games: Core Worlds (and its 2 expansions), Among The Stars (and it's 2 expansions), Diamonds
Hidden trailer/thematic/experience games: Rogue Agent, Panic Station
Q. How would you describe the current board game market? I remember playing board games all the time as a kid but with video games these days…..
A. We are in the Golden Age of Boardgaming… and 5 years from now we'll still be there, or maybe that will be the Platinum Age! It is a very expanding market, and better and better games are coming out each year. It is a great time for table top games.
Video games obviously dominate the game market. But board, card, and table top gaming is the best gaming. Why? Because we come together, we get social in one place, and we experience the games together. Table top gaming is a wonderful experience that more and more people are finding out about and enjoying every day!
[Ok time for a small Editor's note: I have to admit I am a new to the board game industry and how it all works. I asked Stephen a couple of question about developers, when I really meant publishers.  Well my bad,  apparently I was the wrong terminology. So I going to give a quick run down (with the help of Stephen) for other newbies like me and then get back to the interview.]
Stronghold Games is a publisher. Most publishers in this industry do not design the game, and when the design is done "in-house", there is still a designer noted on the game, as well as the publisher. This industry is sometimes called "Hobby Games" and sometimes called "Designer Games"
Andrew Parks is the designer of Core Worlds and works at Quixotic Games . He approached Stronghold Games and pitched to me (Stephen) the concept of a game that uses deck-building as a part of the game, not the entire game (which is what Dominion does). Stronghold Games' license for Core Worlds includes the digital rights as well.
Ok, I got it now. 🙂  Back to the questions.
Q. Do you see or think more board game publishers will try and move their games to digital format?
A . Publishers, such as Stronghold Games, would love to have their physical games put onto a digital format. However, there is a substantial cost to do so, which is why you only see either (a) the simplest games in digital format [think of Words With Friends or Angry Birds] or (b) the most popular games in digital format [like the big names of Ticket to Ride, Agricola, etc.]
Q. Right now Stronghold Games has  Survive: Escape From Atlantis! out on iOS, will there be an Android port?
A. It's delivery on Android is not certain at this time.
Q. How did you decide which games to make digital?
A. Sometimes the games just make sense. Survive is our biggest selling game, so that was a no-brainer to choose. Survive has done OK, but not as well as we would have liked. The game is very good and playable after several iterations from the developer, but unlike what we are shooting for from Core Worlds, Survive on iOS doesn't have a "WOW" factor.
Core Worlds is a fairly deep and longer game, and getting people around a table for a while to play can be more difficult. Therefore, playing either against an AI or playing over the internet with others just makes sense.
Q. Are there any advantages for making games for iOS over Android or vise versa?
A. You hope you can do both, but you have to start with one. We choose iOS first, as more digital gamers seems to gravitate towards iOS over Android, though the installed base of Andriod is greater. It's hard to make that call, but you have to choose one.
Q. So how hard is it to converti a physical board game into a digital one?
A. Very. You need the right digital partner to do this, as no board game company has the time, resources, or expertise to do this.
Now on to Core Worlds…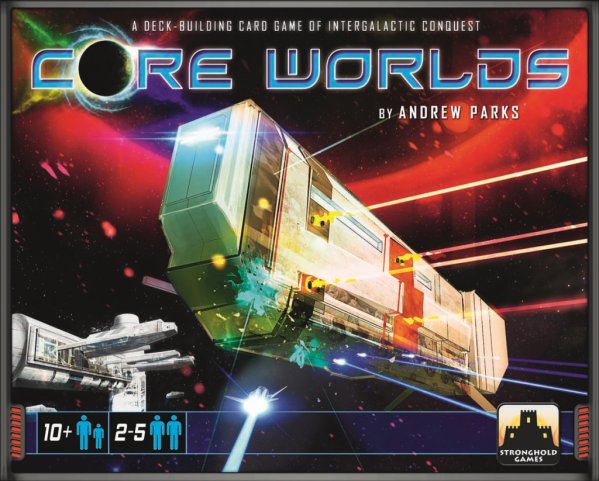 Q. So how did Core Worlds get chosen to go digitial?
A. I have thought for a long time that Core Worlds was not only popular enough to be on a digital platform, but that it was perfect for digital, as you could immerse yourself more deeply into the great thematics of Core Worlds. Unfortunately, the right developer could not be found.
Then came BrokenMyth Studios. They just GOT IT. They are professionals, who work in the Pharma industry for Fortune 100 firms, and they are GEEKS like us. They had a vision, which you can see from the Kickstarter page, on how the game would look in a 3-D, cinematic nature. They pitched it to me and to Andrew, and we loved the idea.
Q. You currently have a Kickstarter project out to make Core Worlds for Android and iOS devices, can you tell us about that project?
A. "Core Worlds DIGITAL" is what we are calling it, and we believe it will be ground-breaking in its implementation. Using 3D modeling to it's fullest, gamers will be able to experience what some have called the "most thematic deck-building game of all", Core Worlds, in truly brilliant way. You will now really experience moving through the galaxy, through the Barbarian, Frontier, Industrial, and Luxury Worlds… until you get to the Core Worlds of the galaxy, vying to become the new Galactic Emperor.
For this project, we have engaged BrokenMyth Studios. They have most of their cred in the Pharmaceuticals industry, doing 3-D modeling and such for these Fortune 100 firms. However, they are gamers themselves, and wanted to do a great digital implementation. They picked their favorite game, Core Worlds, and reached out to Stronghold Games to engage us in this project.
Q. Regarding Core Worlds- there is a base game and two expansions? Will the expansions be included in the Kickstarter?
A. The base game will be delivered if the funding goal is met. There are stretch goals for the Galactic Orders expansion and the Revolution expansion. This is not to say that we will never see those expansions if the stretch goals are not hit, but they will be later than the base game's release, if at all. We need to get the base game out the door first if we hit the base funding goal.
Thanks Stephen for taking the time to chat with me. I love board games and definitely want to  see more come to the digital areana. I have learned a lot today and definitely cannot wait to see Core Worlds on my iPad. I have supported them on Kickstarter, have you?  Right now they are about 65% of the way with about 20 days to go! Good luck Stronghold Games.