Today I am speaking with Andrew Trese from the Trese Brothers. They are definitely well known in the digital gaming world as well as here at AppReviewCentral. I am very excited to announce their new Kickstarter Project: Star Traders 2 RPG.
Star Trader RPG is a great turn-based strategy role playing game that is currently available for both Android and iOS. I reviewed this game earlier in the year. The current game has an incredible amount of material in it and only looks to get better in this new Kickstarter project.
Q. Tell us quickly about your company
I am Andrew Trese, the younger brother, and my brother Cory and I are the founders of Trese Brothers games. Together, the two of us, and a small but growing number of contractors and moonlighters make up Trese Brothers Games. Our motto is "do unto gamers as you would have game devs do unto you." We have tried to be everything we ever wanted in a game dev – no ads, no permissions, tireless customer service, and talking to our fans and communities. It's paid off because our activity community has shared so much of their feedback, excitement and energy with us, and they keep us going every day.
Q. Can you give us a brief overview of Star Traders (the version that exists today)
You are a Captain of a vessel capable of traveling the stars – you're born into the caste of Star Trader. Your services are in high demand – transporting and trading goods on the open Exchanges, or smuggling illicit cargo under the radar of the local Faction forces. Or, you'll choose to take a riskier route, joining into the machinations of politics and conflicts, joining a Faction military as an officer, or joining the deadly dance of the duel of assassins. The stars spread before you, and your choices are endless. How will you navigate the complex politics and viscous conflicts of the Factions, survive the dangers of space and scrape together enough credits to repair your ship, keep Water-Fuel in the tanks, and pay your crew?
Star Traders is an open-universe sandbox. You're life and career are meticulously captured in your Captain's log and when you die or retire, you've told an amazing story, whatever your end. Our community has always responded to and loved the freedom of choice, the hundreds of ways to play, and the depth of the simulation of Star Traders. We're are hoping to take all of that to the next level in Star Traders 2.
Q. Will users be able to play/continue the same game on all platforms? 
Astute question! One of the benefits we gained from the Heroes of Steel KickStarter was a truly cross-platform saved format. Today, if you have the right tools, know what you're doing and rooted devices, you can move your saves around between any platform (Android, iOS, PC). We don't currently provide a Trese Brothers cloud save feature that would let you sync easily between any platform. The idea is, of course, gold. I could see us adding this as a stretch goal somewhere in the middle of our stretch goal ladder, if we fund!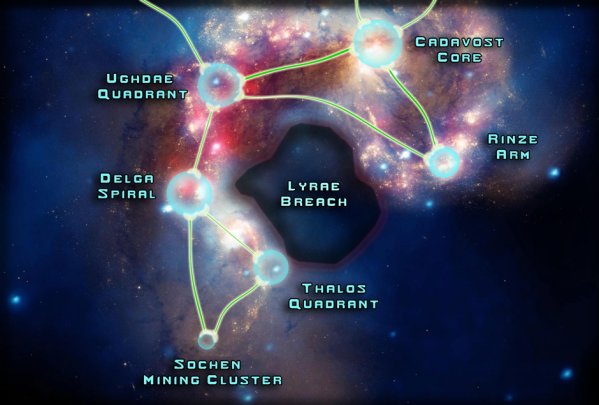 Q. Sounds like Star Traders 2 be more complex, do you think it will have a steeper learning curve?
The original Star Traders RPG was our first game. Honestly, we had no idea about the journey it was about to take us on. While we planned some ability to expand the saved game format, a lot of the decisions we made in the original game have limited our ability to change major systems – so we've never been able to add a really effective tutorial or introduction to the game. We don't plan to make the same mistake with ST 2, and we've learned a lot from the intervening 5 games. If you check out a game like Heroes of Steel, you'll see we've come a long way in introducing the world, system, and user interface effectively through a series of challenges.
No doubt – Star Traders 2 will be deep game with a mean difficulty curve, but we are looking for an "easy to play, hard to master" experience as our target.
Q. What is the one thing you are most excited about this Kickstarter project?
Our story started 4 years ago, when we sunk a whooping $25 into the Developer License for Google Play and about a hundred man-hours to create the first iteration of Star Traders RPG, a text and button sandbox space trader, with a smattering of graphics, but a strong core of political and economic simulation. We had nothing – nothing invested, no company, no idea that this would be more than a funny hobby and a game that two brothers who lived on opposite coasts could share. Back then, in 2010, the spacers, traders and Captains arrived in droves. Their emails and feedback crowded our inboxes like ships crowding the an orbital station. The community came out for us and gave us faith that we could make this happen.
Coming back to our community for Star Traders 2 through KickStarter feels very special. We have come full circle. We're back at the beginning, Vizzini. When the original Star Traders launched, we could not have done it alone. Without the thousands of fans, we would never have taken up this torch, taken this four year journey. Now, to carry the torch into the next chapter, we need your help again!
Q. If funded, when do you think folks will have the game in hand?
We are looking toward the end of 2015 to have the full game released. That timeline includes a multi-month alpha period where the KickStarter Alpha team will have exclusive access to the game in its later half of the development cycle. This is one of the most exciting reward tiers, and we love our alphas. We've done them for the last three games, and they have all had massive impacts on the game, content, and user interface. We have the best community, and they have really had a hand in shaping our games through the alphas, and post-release through the forums and other channels as well. But, for me, the alpha phase has a really sweet spot in my heart.
Q. Anything else you want to add?
I hope gamers who aren't already playing Star Traders RPG will find us and find our KickStarter. We've created an ambitious project and we'll need everyone to share the project ten times over if we are going to be successful.
Personally, for me, Star Traders RPG has always been Firefly. When I play, I scrap and fight and scrimp and save just to keep flying. I'm one step ahead of death or the law. For me, Star Traders 2 RPG is all about building on those feelings, on the triggers to my imagination, to that experience. I hope you'll share in that experience with us!
–Thanks Andrew, appreciate the time and letting us get a better glimence into your company and your current Kickstarter project. Personally I have enjoyed Star Traders and definitely think this Kickstarter is a project we should back.   Here is there official video on the project: