A new poker game has come online recently for Android devices, it is Winner Poker. It you enjoy playing poker and interacting with players around the world, I recommend you give this game a try. Winner Poker is for real poker lovers who use Android devices and enjoy socializing.


App Name: Winner Poker
Developer: Viaden Gaming Limited
Cost: Free
Market: Android
In Winner Poker you can play two types of poker: Omaha High and Texas Hold'em. I am familiar with Texas Hold'em, but I had never played Omaha High.  Overall the game is nicely setup and organized, the interface does not take up too much real estate, and it is very easy to find where you need to go.
The game provides the player with a number of options in the game. When you first log in, you can either create an account or play as a guest. This is a nice option, if you are a casual player and just want to pop in for a few hands.  Most folks will probably create an account. You can log in with Facebook and invite your Facebook friends to play, share achievements and send gifts.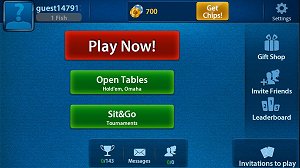 After logging in you are get the option of Play Now, where you are placed at a table based on your balance and Open Tables and Sit & Go Tournaments, both of which you can chose the game, table size, speed, buy in amounts, etc. So you can customize your game play.
Once you are all set up, it is time to play! As I said earlier, I have never played Omaha High. While I was setting up, I looked for some guidance on how to play in the game. After some looking and touching base with the developer, found out that there is no in game help. As the developer put it, "This app provides a real poker experience with no tutorials."   So if you are unfamiliar on how to play, make sure you read up before going online. Even after I read, I still lost! LOL  🙂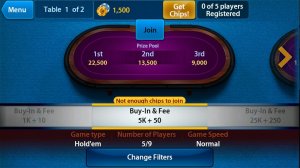 Even if you lose, do not worry, because you will still get some chips! At the beginning of the game you are issued some chips free, and each day you play you are  awarded chips. Of course you can purchase them if you like, if you are a registered player.
Socializing is the main perk of the game. In addition to playing poker, the app allows players to exchange private and public messages, plus exchange gifts and beverages. I usually do not give out a lot of gifts because I am trying to figure out what cards to play!
The last aspect of the game I want to mention is the achievement area. They have a good number of different trophies you can earn, such as money won, tournaments won, hands on, number of friends and more. Having in-game achievements I think add something to the game and I like it when games have these.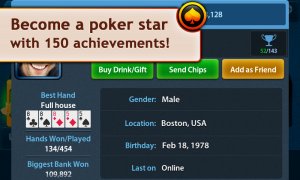 Winner Poker provides a very nice poker experience. The graphics are clean and crisp, the user interface very intuitive and easy to follow. The game provides plenty of options to customize the poker game you want to play.  They have done a nice job with the social aspect of the game also.  I found the game play to be smooth and thought there was plenty of time given to play each hand.  It is very easy to raise, check, fold in the game.  (Sometimes the text seemed a bit small, but they could just be my eyes. ) If you have every played Zynga Poker, then you will be right at home with Winner Poker. I would recommend the game for the more experienced players but even newbies should get the hang of it after a while.
So what are you waiting for- should we deal you in?!
Viaden Media has produced a number of apps primarily for iOS, but does have some other Android apps on the market.